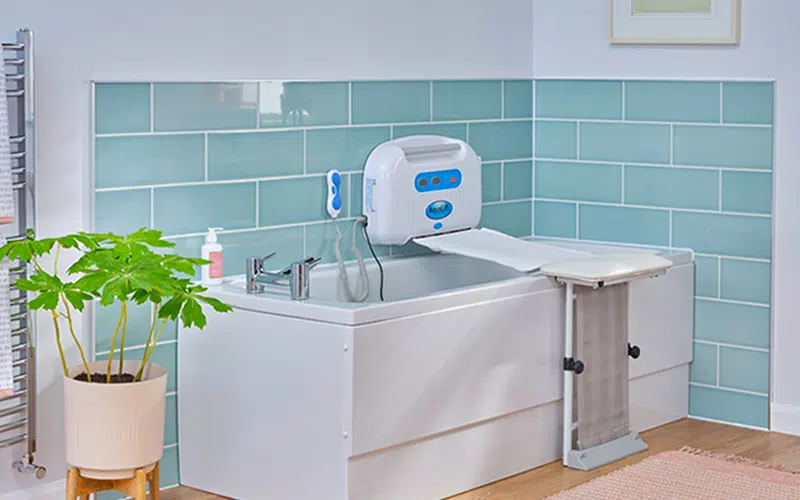 Frequently Asked Questions
Home Demonstration
What happens at a home demonstration?
We believe it is essential for our customers to find using the AquaLift an enjoyable experience and feel happy that it can be used with ease. This is why we provide a free dry home demonstration in the comfort of your own home. Consider this a try before you buy without any obligation. If you are not happy with the product, we would not want you to buy one. One of our trained advisors can bring a demonstration unit to your home so you can trial the AquaLift in your living room, all you need to do is complete the simple form opposite or call today on 0800 028 2802.
Costs & Warranty
How much does the AquaLift Bath Lift cost?
AquaLift is one of the most affordable solutions to enjoy full-depth bathing. It requires no plumbing or building work and is often a tenth of the price! Compared to having a walk-in-bath fitted. In order to provide an accurate price for your install, it is important that we assess your bathroom through a free no obligation home demonstration. Although AquaLift fits majority of baths, we may have to use one of our alternative bathing solutions to fit certain bathroom configurations. We recommend starting with a FREE detailed colour brochure – Click Here
Could I be eligible for VAT relief?
If you have a long-term illness or you're disabled, you might not have to pay VAT on AquaLift. In general, the items covered by the VAT relief are things that are of practical help to you because of your illness or disability. If you would like to find out if you could be eligible to save 20% call us on 0800 028 2802.
What warranty is available with my AquaLift Bath Lift?
We are so confident in the quality and construction of your bath lift, for complete peace of mind, we offer up to three years warranty.
Fitting
How Long Does AquaLift Bath Lift Take to Fit?
The AquaLift Bath Lift can be fitted in around 1 hour. Our trained specialists have fitted thousands over the years. You can also enjoy a hot long soak the very same day as installation.
How do I know if the AquaLift Bath Lift is suitable for my bathroom?
The AquaLift can be fitted to most baths and bathroom walls. The AquaLift fits to your existing bath without the need for any alterations.
What if somebody else would like to use the bath?
As the AquaLift fits to your existing bath it can simply be retracted for conventional use should others need to. Just another reason why the AquaLift is such a convenient and efficient option for you.
Suitability
Will the AquaLift Bath Lift be suitable for me?
Invariably, yes - you can now change your lifestyle without changing your bathroom! The AquaLift will fit most bath installations and will take up to a remarkable 20 stone in weight. The AquaLift fits to your existing bath without the need for any alterations. A free no obligation survey is available before you buy.
Will the AquaLift Bath Lift make bathing safer for me?
Using the AquaLift can reduce the risk of slipping or falling, making your bathroom a safer environment. The unit has been rigorously tested and works using a rechargeable battery, so no electricity is involved. A built-in safety mechanism also means that you will always be able to rise yourself up and out of the bath, even if the battery needs recharging.
Is the AquaLift Bath Lift reliable?
This is a quality system that has been designed to last. We will however provide you with a full warranty, which means that you will have the peace of mind that help is just a phone call away.