Bath Lift vs Bath Cushion: Which Is Best For Me?
Both a bath lift and a bath cushion can allow you to enjoy independent bathing experiences. Compare the benefits of each to find the best option for you.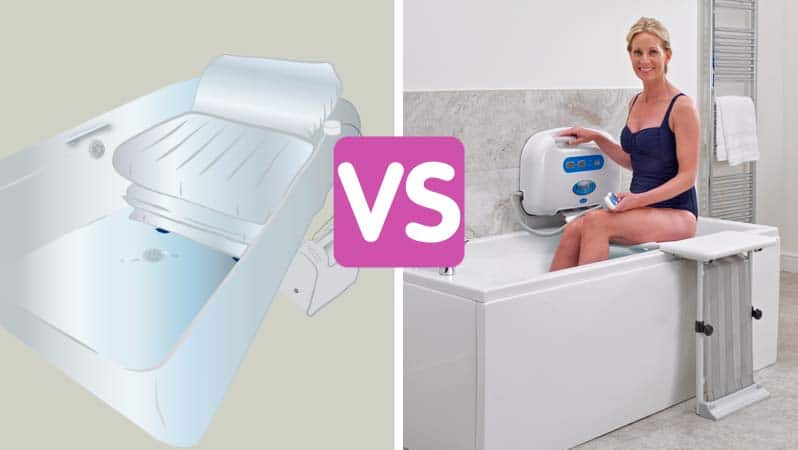 Entering and exiting the bath can be a daunting task for those with limited mobility. However, the AquaLift bath lift can help you to regain your independence when bathing.
Although both a bath lift and a bath cushion can allow you to enjoy independent, full-depth bathing experiences, an AquaLift bath lift has many unique features that will benefit you.
What is a Bath Cushion?
A bath cushion (otherwise known as a bathing cushion) is an inflatable cushion placed in the bath. It can be inflated and deflated, via an easy to use control, to help the user in and out of the bath.
What are the Advantages & Disadvantages of a Bath Cushion?
Bath cushions are ideal for those people who experience problems when getting in and out of the bath.
As they use suction cups to stay in place, they are portable, so are good for people who travel around a lot.
One big problem with Bathing cushions is that they aren't the most comfortable mobility device to relax on.
Furthermore, the user needs to have enough strength and mobility to be able to get directly into the bath with no support.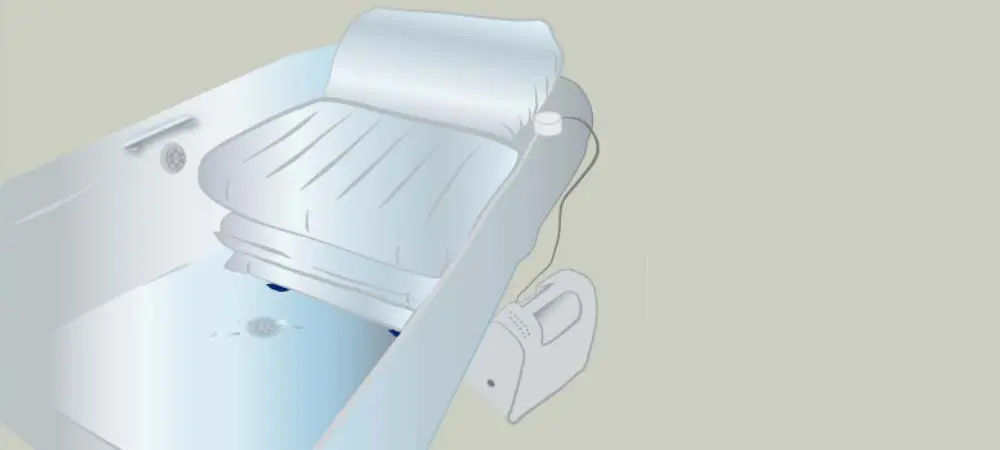 A Bath Lift is a Smart Alternative To A Bathing Cushion
A bath lift is a battery-operated device that can be attached to the side of any bath. The lift lowers you gently into and out of the bath, and can be controlled with ease by using a hand-held remote, making independent bathing simple and enjoyable again.
The AquaLift® bath lifter is one of the safest and most comfortable bath lifts available and has been designed to fit most baths taking up minimal space.
Due to the fact that AquaLift can be attached to any bath, it is a cheap alternative to many bathing aids, including bath cushions.
Designed with your safety in mind, featuring a non-slip transfer seat to help to keep you safe from slips and falls even when you are drying yourself. They also offer a grab rail aid to offer extra support when you're entering and exiting the bath tub.
How Could It Help Me?
Improved Confidence: bath lifts are the ultimate bathing solution for those who have lost confidence when bathing, perhaps due to a slip or a fall.
 Independence: they enable you to enjoy independent and dignified bathing experiences once again
 Safe and relaxed: our bath lifts are designed with key safety features to offer you peace of mind when you are bathing
What Are The Features Of An AquaLift Bath Lift?
Our bath lifts have a variety of key features that can benefit you!
  Transfer seat to make getting into and out of the bath even more simple
  Non-slip seat for extra added safety
  A visible temperature display to prevent scolding when entering the bath
  Easy to remove so others can still enjoy conventional bathing experiences
  Can be fitted to almost any bath
  20 stone weight capacity
 Battery operated meaning there is no risk of tripping over any wires
  Folds away for easy storage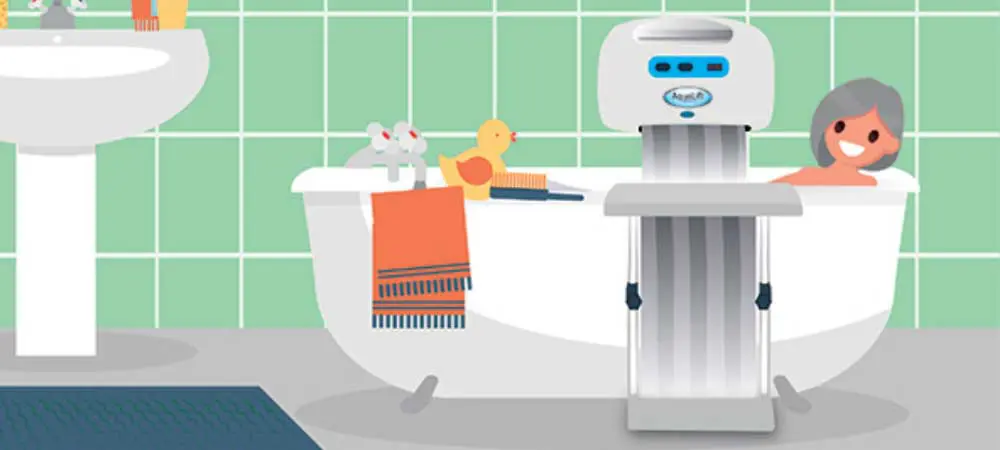 Bath lift vs Bath Cushion: Which is better?
There are multiple benefits that an AquaLift bath lift has over a bath cushion. One of them is the fact that they have a transferable seat, making entering the bath even more simple. Take a look at this comparison of benefits that you can get from both bathing aids.
| Feature | AquaLift | Bath Cushion |
| --- | --- | --- |
| Full Soak | ✓ | ✓ |
| Transfer Seat | ✓ | X |
| Drying Aid | ✓ | X |
| Bath Side Handhold | ✓ | X |
| Wall Side Hand Hold | ✓ | ✓ |
| Handhold Accessibility | Top & Bottom | N/A |
| Slip Cushion | ✓ | X |
| Temperature Display | ✓ | X |
| Full Leg Room | ✓ | ✓ |
| Can User Fully Recline? | ✓ | ✓ |
| Splash Proof Handset | ✓ | ✓ |
| Easy To Remove For Others | ✓ | ✓ |
| Suitable For Corner Baths | ✓ | X |
| Suitable For Island Baths | ✓ | ✓ |
| Weight Capacity | 20 Stone | 18-19 Stone |
| Battery Operated | ✓ | Usually Mains |
| Average Lifts Per Charge | 20+ | 5-10 |
What are Customers Saying?
AquaLift has helped 1000's of people enjoy using their bath once more and it could help you too:
"I needed a Bath Lift to help me into and out of bath AquaLift came out to me I got sorted out now I can have a soak in bath which is super with out worrying about getting in and out at last"
Enjoy Safe, Comfortable, Full-Depth Bathing Once More
Enjoy easy, full-depth, comfortable bathing and get in and out of your own bath without the worry of losing your balance or slipping.
For a free brochure, call 0800 028 2802 or click here to request your free brochure today.
To overcome the safety issues faced in your bathroom you may be concerned that the only solution is to undergo an expensive bathroom transformation. However this is not always the case. Our informative guide outlines a number of cheaper alternatives that you can consider to help prevent otherwise avoidable injuries from occurring.