Getting Out Of Bath Tub: Tips & Step By Step Guide
If you're finding getting out of bath tub difficult, read on to discover how a few simple alterations, including the addition of a bath lift, could help.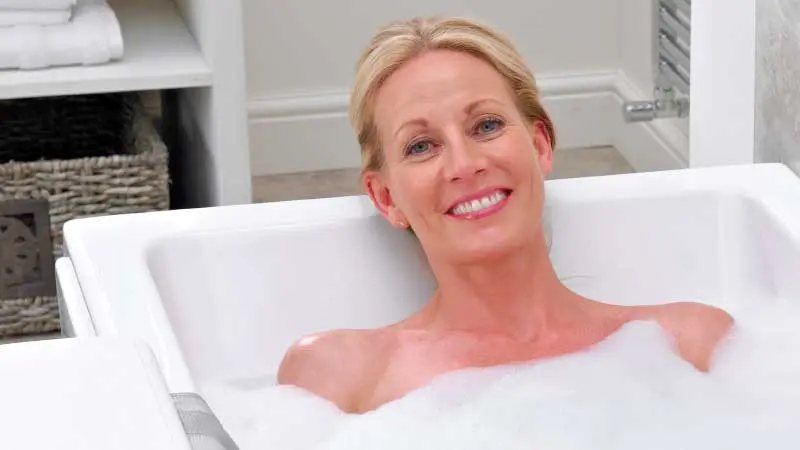 Key Problems Getting Out of Bath Tub
One thing that many of us will have taken for granted at some point or other is the ability to get in and out of the bath easily. It's not until this ability is taken away, that you realise the frustrations and difficulties it can bring.
Problems getting in and out of the bath can affect people of all ages and mobility levels, including (but not limited to):
The elderly
Disabled
People recovering from surgery
Heavily pregnant women
Sufferers of Joint pain including Backache & Arthritis
Those who suffer from knee problems
"Showers are lovely but nothing beats a relaxing bath to ease aches and pains." Mrs Tompson
Products to keep you safe and comfortable when getting out of bath tub
Whether you're worried about your mobility getting worse, or are simply thinking ahead and anticipating your future needs, it's important to ensure you have an effective bathing solution in place for your comfort and security.
Rather than waiting until you slip or have a fall before you decide you need help, installing a product now that makes your life easier is an investment for the future.
How a Bathlift Can Help Getting Out Of Bath Tub
If you struggle to get in and out of your bath AquaLift® is the easy low-cost solution to enjoying safe bathing again.
Effortlessly smooth, AquaLift® gently lowers you into the bath and safely lifts you back out again.
Unlike a walk-in bath or shower, there is no need for plumbers or builders making expensive alterations to your bathroom.
Fits onto your existing bath
Lowers and raises you
Retractable for conventional use
Wondering how the AquaLift could help get out of bath tub? Follow these five simple steps to full depth bathing with AquaLift.
Step 1 - Place yourself on the safety seat
Using the sturdy grab handle, steady yourself as you sit down on the safety seat facing away from the bath.
Step 2 - Manoeuvre your legs into the bath
Keeping hold of the handrail, swing your legs over the bath side and into your bath.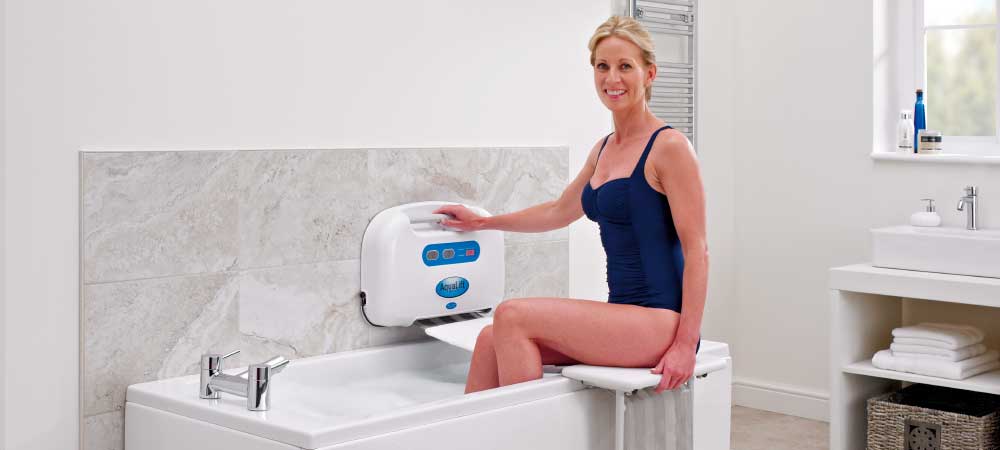 Step 3 - Slide onto the cushion
Slide onto the non-slip cushion seat and begin lowering yourself down using the handset.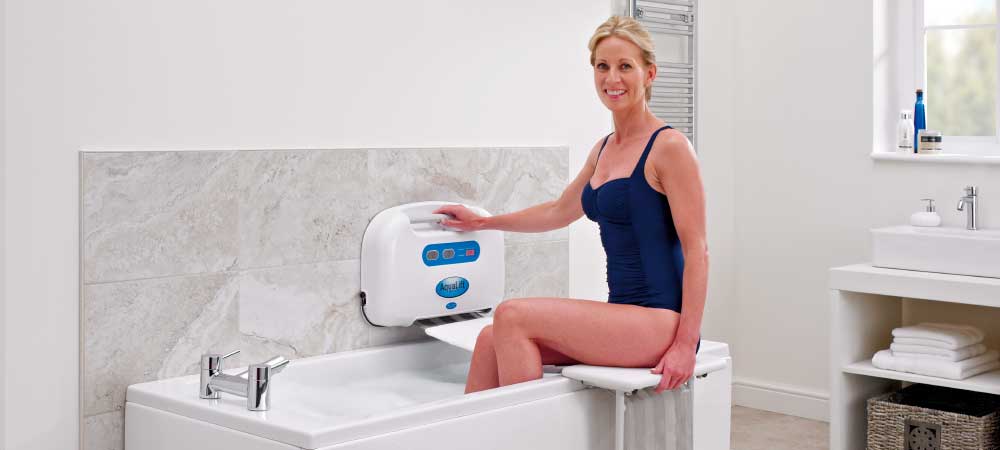 Step 4- Lower into the bath 
Continue lowering yourself down using the handset (or the buttons on the AquaLift itself if you prefer) until you reach the bottom of your bath.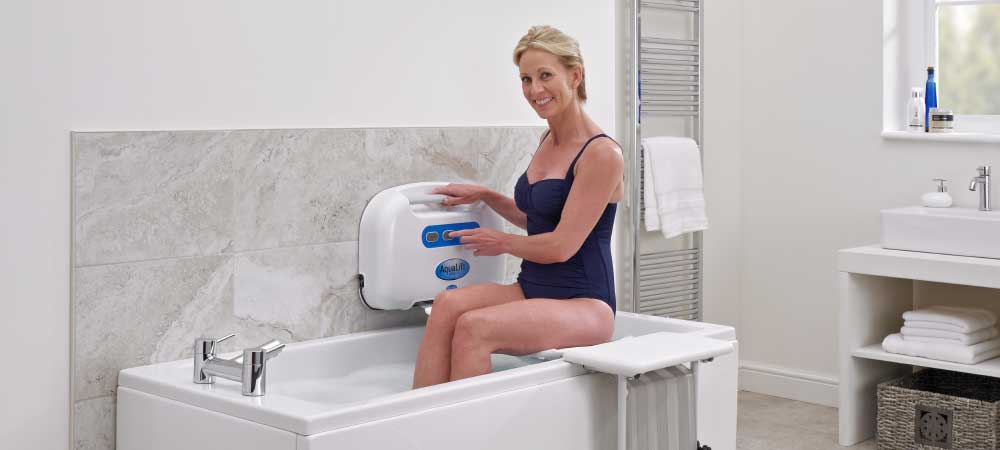 Step 5 - Lie back and relax!
Lie back, relax and enjoy full depth bathing!
When you are finished, simply reverse the process to get safely out of your bath.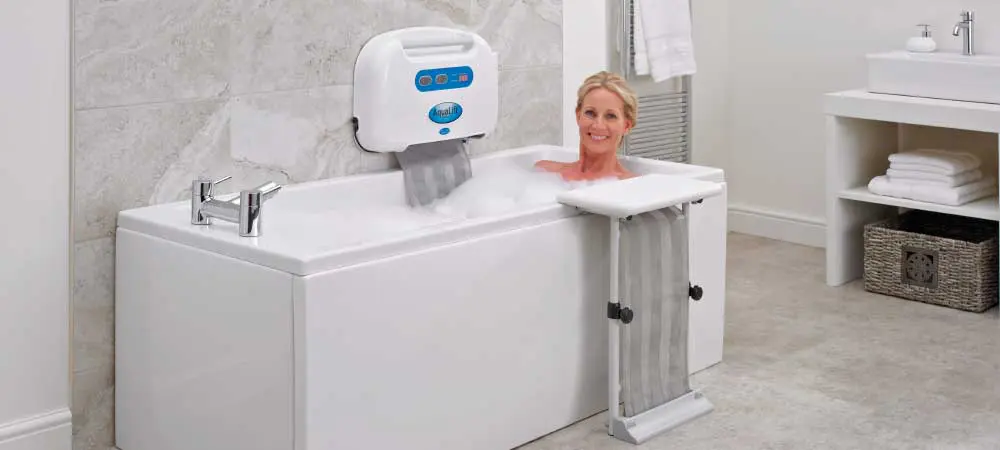 Watch How AquaLift Can Help Getting Out Of Bath Tub
Other Tips To Make Getting Out of Bath Tub Easier
Add a slip mat- A slip mat placed inside and next to the bath can provide extra grip to make getting out of the bath safer
Install Handrails- A handrail gives extra stability when getting out of the bath
Put all essential items within reach to prevent any awkward stretching
We hope this has helped you to understand how the AquaLift works. To find out more request a free brochure here.
To overcome the safety issues faced in your bathroom you may be concerned that the only solution is to undergo an expensive bathroom transformation. However this is not always the case. Our informative guide outlines a number of cheaper alternatives that you can consider to help prevent otherwise avoidable injuries from occurring.