Are you finding bathing increasingly challenging? You may find a bath lift could help you, but how do bath lifts work?
How Do Bath Lifts Work?
A bath lift is a powered device connected to a domestic bathtub. Bath lifts work by elevating and lowering the user in and out of the bath. Bath lifts are most often used by individuals or carers to assist a person with limited mobility using their bath. With its use, access to the bath becomes safe and easy once more.
Bath lifts normally include a seat and backrest, together with an electrically controlled unit as standard.
There are many types of bath lift available including:
Battery or Mains powered bath lifts
Hydraulic bath lifts
Inflatable bath lifts
Due to their ease of use, the majority of bath lifts are battery or mains powered.
A battery powered bath lift provides the safest and easiest way to use a bath in an existing tub. Battery Powered Bath lifts are operated by two control buttons. It will gently lower and raise the bather into and out of the bath when the user is seated on the reinforced polypropylene seating belt. This flexible belt is firmly secured to a winding shaft within the cabinet case. The other end anchored to a sturdy floor fitting at the side of the bath.
It is also a more affordable solution to safe bathing and prevents the user from having to consider more expensive options, such as the installation of a walk-in bath.
3 Easy Steps To A Safe Relaxing Bath
Enjoying a relaxing bath is one of life's little luxuries. If you are finding it increasingly difficult to get in and out of your bath, then the AquaLift® bath lift offers a safe, simple and affordable solution.
At the simple touch of a button, AquaLift® lowers the user safely to the bottom of the bath for you to enjoy a safe, simple bath once more. Essentially, the AquaLift® does all the work, so you don't have to! It really is as easy as 1, 2, 3…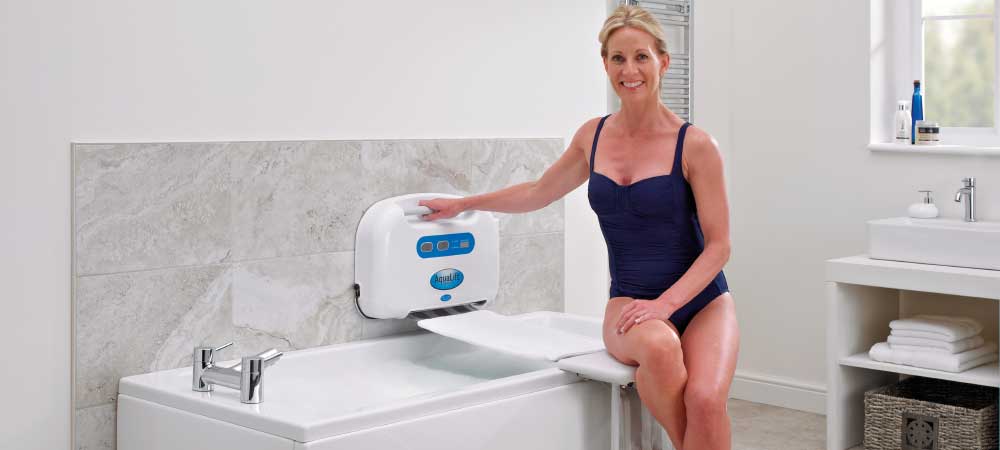 Step 1: Holding the handrail, swing your legs over the bath side and into the bath.Then transfer across to the non-slip belt.
The AquaLift® bath lift is supplied with a 'slip-cushion'. This is designed to reduce the need to shuffle during the raising and lowering of the belt.
Sit on the transfer seat so that you are comfortable and turn to face the bath.
Keeping hold of the handrail, swing your legs over the bath side and into your bath, onto the non-slip cushion seat.
Top tip: Always ensure the Velcro Straps are secured under the belt. But not too tightly to allow the cushion to slide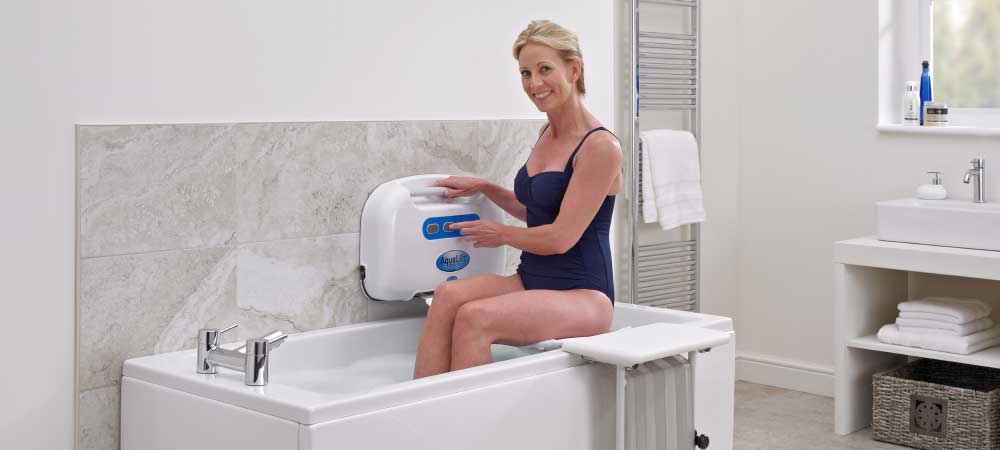 Step 2: Lower yourself down using the handset (or the buttons on the AquaLift® itself if you prefer) until you reach the bottom of your bath.
Hold on to the inbuilt grab rail at all times when using the Bath lift. It is important to sit centrally on the slip cushion at all times.
Now press the 'DOWN' button, which will slowly and gently lower the user to the bottom of the bath.
Stop pressing the 'Down' button when the belt is comfortably on the floor of the bath.
Top tip: Lean slightly towards the wall-rail, which will help the slip-cushion slide on the belt, reducing the need to shuffle.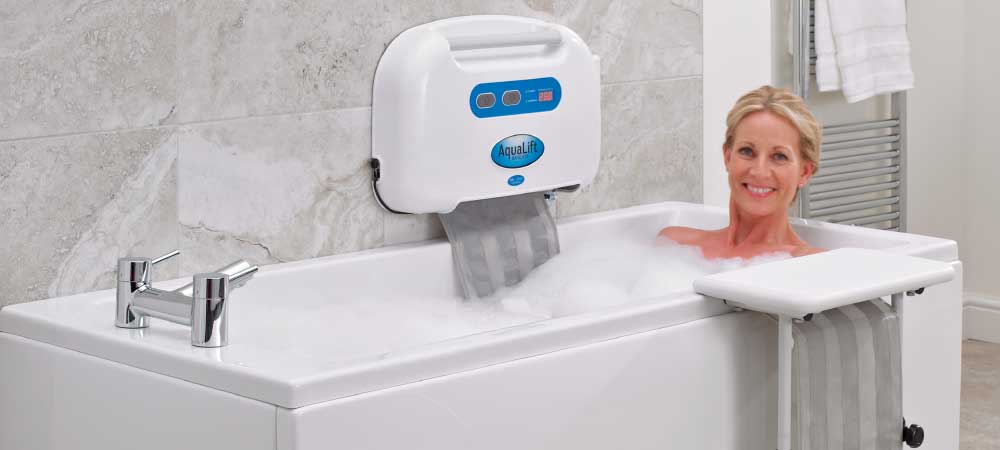 Step 3: Lie back, relax and enjoy full depth independent bathing! When you are finished, simply reverse the process to get safely out of your bath.
You can now relax and enjoy a refreshing bath!
To get out of the bath simply reverse the process either using the controller or the buttons on the unit.
Unique Benefits of the AquaLift BathLift
Before you rush into purchasing a bath lift, it's important to not only consider your budget, but additional safety features too.
AquaLift® is carefully designed with many unique safety features to ensure safety.  Only AquaLift® has all these unique safety features:
Non-Slip Safety Seat: The AquaLift® has a non-slip seat with adjustable height to fit your bath
Built-In Temperature Sensor: Get your bath water perfect, before you get in
Battery Powered: No dangerous power cables for you to worry about. Up to 20 baths between charges
Retracts Retractable belt: The bath can be used conventionally by others
Easy To Use Handset: Easily attaches to your bath or tiles with suction cups on the back
Sturdy Handrail:  Helps you get in and out of your bath with ease
Watch Our Video Guide On How Do Bath Lifts Work?
Do you struggle to get in and out of your bath? AquaLift® is the easy low-cost solution to enjoying safe bathing again.
Why You Can Trust AquaLift BathLifts
Ever since we sold our first bath lift over 20 years ago, we've grown to become one of the UK's leading and most trusted providers of Bath lifts.
Our award-winning bath lift has been carefully designed to allow the user to enjoy using their bath again, without the need for expensive bathroom make-overs.
We take pride knowing that the AquaLift® has helped 1000's of people remain safe and independent in the home they love.
We're also endorsed as a Which Trusted Trader. Only those who meet their high standards can become Which? Trusted traders. We are proud to be recognised for our installation service and abide by the Trusted Trader terms and conditions and code of conduct.
We're Dedicated to Helping You…
If you, or a loved one is finding it increasingly difficult to get in and out of the bath, or you're worried about a slip or fall, get in touch with us today.
Our highly trained staff are happy to discuss your individual requirements and answer any of your questions.
We believe it is essential for our customers to understand how the AquaLift® bath lift works and feel happy that it can be used with ease. This is why we provide a (contactless) free dry home demonstration in the comfort of your own home.
Consider this a try before you buy. If you are not happy with the product, we would not want you to buy one.
To book your free demonstration, please call us today on 0800 028 2802 or click here to find out more.
To overcome the safety issues faced in your bathroom you may be concerned that the only solution is to undergo an expensive bathroom transformation. However this is not always the case. Our informative guide outlines a number of cheaper alternatives that you can consider to help prevent otherwise avoidable injuries from occurring.