Accessible Bathing Without Needing A Brand-New Bathroom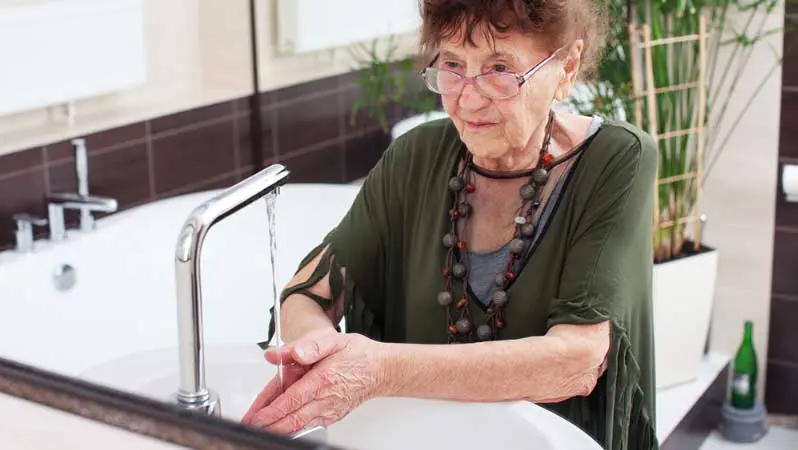 Loss of mobility can turn bathing into a rather difficult task. Furthermore, the concept of purchasing and installing a whole new bathroom can be daunting. Although walk-in baths were once the only real accessible bathing solution, nowadays there are more options that don't require a brand-new bathroom. One of them is the AquaLift bath lift.
What is a bath lift?
Bath lifts are a popular bathing option for individuals with limited mobility. The AquaLift smoothly and safely lowers you into and lifts you out of the bath at the simple touch of a button.
There are a range of different bath lifts on the market today, but the AquaLift boasts many features that make it unique. You can see exactly how it works here.
What makes the AquaLift unique?
Adjustable transfer seat:
The non-slip transfer seat makes it even easier for you to take a bath. It means you can sit on the seat and swing your legs over into the bath as opposed to having to step over the side. The seat is also the perfect place to sit when you're drying yourself if you have limited balance.
Built-in grab rail:
Our bath lifts are manufactured with built-in grab rails to further reduce the risk of slips and falls. The grab rail offers a sturdy support to help you to balance when you're entering and exiting the bath.
Full-depth bathing experience:
Unlike some other accessible bathing products, the AquaLift allows you to enjoy full-depth bathing experiences. This means you will be able to enjoy a proper, relaxing bath independently again.
Retractable belt:
The AquaLift's retractable belt means that not only is the unit compact, but also your bathtub can be used conventionally too! This means that your family are still able to bathe freely whenever they please.
Temperature gage:
The in-built temperature gage allows you to see the temperature of the bath water without having to bend over and reach into the bath. This not only helps those with limited mobility, but it also helps to prevent scolding.
Rechargeable battery:
Unlike other bath lifts on the market, the AquaLift is powered by a rechargeable battery which lasts for up to 20 lifts! Not only is this simple to use, but it also means that there is no need for wires and electrics in the bathroom. No loose wires means one less potential tripping hazard!
Up to 20 stone user weight:
Our bath lifts can hold the weight of anybody up to the weight of 20 stone! This is a higher weight capacity than many other accessible bathing products that are currently on the market.
The aim:
We have two main aims with our bath lifts, both of which relating to the safety of our customers:
To reduce the likelihood of slips and falls in the bathroom – although the bathroom is a small room, it can be particularly hazardous. Adding water to the equation can increase the likelihood of slips and falls. Our bath lifts are packed with safety features to try to reduce the risk of slipping and falling in your bathroom.
To help you to bathe safely and independently again– we understand how important keeping clean is for all of our customers. This is why we have manufactured our products with safety features to help those with limited mobility to be able to bathe safely and independently again.
Trusted & Loved:
Since its launch in 2005, the AquaLift has been installed in over 8,000 homes! Here are just a few of the positive comments we have had from our customers:
' An excellent service. '

Everything went well from start to finish. The AquaLift was installed quickly and any mess cleared away. Instructions for use were given clearly.

' Excellent demonstration, information and installation. '

Everyone very helpful and professional. I would recommend the equipment and service. The demonstration was excellent, information given was very clear, and everyone was considerate and helpful.

' Excellent product. Essential to those of us who can't have a shower. '

Friendly, helpful service. Quick and easy installation. The product is a lifeline for me. Without it I would have to move from my lovely home
See more of our customer reviews here on our Feefo page!
Free home demonstration & installation:
We offer a free home demonstration service so that you can try before you buy! This means that you can test out the AquaLift before you purchase.
Once you have purchased, we will deliver and install your new bath lift completely free of charge!
Find out more:
Want to find out more about how an AquaLift could benefit you? Simply click here to request your free brochure, or give our friendly team a call on 0800 028 2802 today!
To overcome the safety issues faced in your bathroom you may be concerned that the only solution is to undergo an expensive bathroom transformation. However this is not always the case. Our informative guide outlines a number of cheaper alternatives that you can consider to help prevent otherwise avoidable injuries from occurring.