Bath lifts vs Bath Hoists
Bath lifts vs bath hoists? Discover the advantages and disadvantages of each to help you decide which bathing aid is best for your personal needs.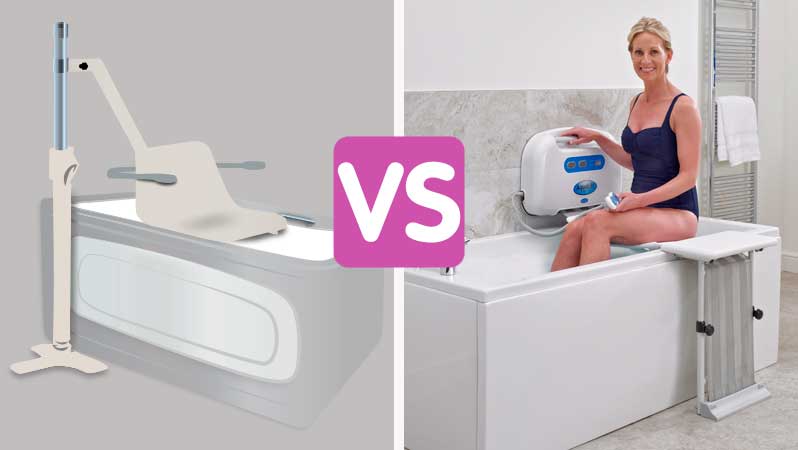 As we get older there are many changes that happen to our body. These changes can have a knock-on effect on our health too – mobility being one of them. Loss of mobility tends to hinder parts of your lifestyle. This in turn could be detrimental to your confidence, meaning that you may decide to not do things you were once able to do due to worrying about unwanted falls.
Having to make lifestyle changes because of this issue can be hard to come to terms with, and you may feel you are losing your independence. If you worry that there aren't any solutions out there to make daily tasks easier, we're here to tell you that is not true.
There are various solutions out there to make your new lifestyle easier, so there is no need to panic! Bathing is an essential part of our everyday tasks and lack of mobility may get in the way of this. Today we're going to compare whether Bath lifts vs bath hoists would be best for you.
Bath lifts vs bath hoists
Bathing is a very personal experience. Not everybody feels comfortable or may not even have a companion or carer to help them in these private moments. We understand that your dignity is very important and want you to know there are mobility bath aids there to enable you to bathe independently.
Bath lifts and bath hoists are sensible solutions to a practical mobility aid:
Bath Hoists
Bath hoists typically sit on the outside of a bath and can either be attached to the floor or ceiling. They lift the user from above via a pole that is fitted into a baseplate next to the bath.
There are two types of Bath hoists available- Manual and Powered. With a Manual hoist, the carer winds a handle to lower the user into the bath. With a powered hoist, it is controlled via a handset.
Advantages of a Bath Hoist
Enables you to get in and out of the bath safely
Disadvantages of a Bath Hoist
Expensive
Take up a lot of space in your bathroom so  may get in the way, especially if you have other bathroom users
You need to maintain a seated position
Bath Lifts
AquaLift has designed a bath lift that allows for complete independence when bathing. The super slim design makes this a compact unit that takes up minimal space and is installed inside your bath – great for other bath users.
Our bath lift requires no heavy handling! There are portable bath hoists to choose from, however, that requires storage space that you may not have. Not only that but you would need to constantly take it out and put it away when needing to bathe – which may require assistance. With AquaLift, you have little work to do. There's no messing around or heavy lifting involved, it stays in a fixed position in the bath and can be used independently.
What is the AquaLift bath lift?
Bath lifts offer more independence to the user compared to a bath hoist – which is primarily a great mobility aid for carers or loved one's helping the user.
At AquaLift we supply bath lifts for people with disabilities or mobility issues that hinder them from bathing. With a bath lift you can rediscover safe, comfortable full-depth bathing. If you worry about any unwanted slips and falls in the bath then having a bath lift will put your mind at ease. You'll be able to bathe safely and independently.
What we love most about the AquaLift bath lift is that it is a much more cost-effective way to improving your bathing experience. The best part is that you don't need to splash out on a new bathroom as the only requirement needed is a bathtub! If you have that, then you're good to go.
Our slim design allows for a discreet look with no bulky unappealing parts. If you're wondering about any wires then worry not, our bath lift is battery operated, so there is no risk of tripping over all those unwanted wires. We also have top quality engineers who can install your bath lift in under 1 hour! You can even enjoy a long hot soak the very same day!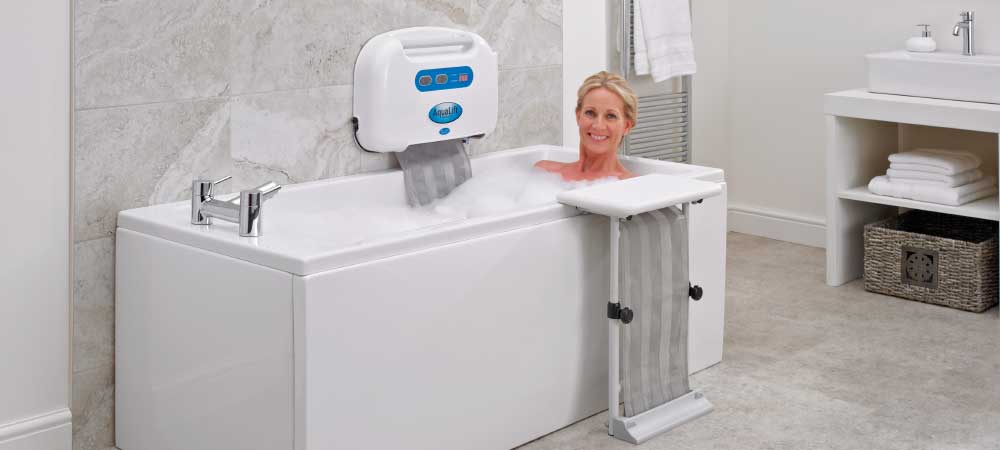 Advantages of the AquaLift bath lift 
✓ Super slim design
The AquaLift bath lift has been specially designed so you can bathe without the worry of any bulky items getting in the way. We love how discreet it looks compared to a bath hoist that typically sits outside your bath and may be in the way for you and other bathroom users.
✓ Fully Retractable belt
We bear in mind that you may not live alone and there may be other users of the bathroom. For this reason, we have installed a fully retractable belt that allows other users a conventional bathing experience. It also offers a nicer look for when not in use.
✓ Fits into your existing bath
There is no need to splash out on an entirely new bathroom! The only requirement we need is a bathtub. This makes it more affordable for you and no need to worry about any messy plumbing or building work. With just under 1 hour to install, you can easily go about your daily routine without needing to change your plans.
✓ Non-slip transfer seat
Your safety is imperative. Our bath lift is safe and very easy to use. The non-slip transfer seat makes it nice and simple maneuvering in and out of the bath. We have a non-slip feature that adds extra safety, so you can have peace of mind that you are not going to slip.
✓ Battery operated
Because our bath lift is battery operated there are no wires hanging out or getting in the way - not only adding to the sleek look but making it easier to move around without the worry of tripping. AquaLift bath lift can last up to 20 lifts with only 1 charge, so you can get quite a few baths out of it before its next charge.
✓ Built-in water temperature checker
We know how important it is to get the right temperature for your bath. Not only for your safety but for a pleasurable bathing experience. For that reason, we have a built-in water temperature feature that allows you to see the temperature of the water before getting in. That way you limit any accidental scolding and can enjoy a nice relaxing bath.
✓ Supports user weight of up to 20 stone
People come in all different shapes and sizes. If you're worried that you may not be able to use our bath lift because of your weight, you do not have to worry as it has been designed to hold up to 20 stone. That way you can use your bath lift without worrying.
What next…
If you're looking to change your lifestyle without changing your bathroom, an AquaLift bath lift is the best solution for you. It offers a sleeker look, quick installation, and your safety is guaranteed.
We offer a free no-obligation dry home demonstration. That way you can familiarise yourself with our bath lift and find out how it really works. It's the perfect chance to ask any questions or concerns that you may have too and what's best is that it's all done in the comfort of your own home.
Click here to book your free no obligatory dry home demonstration. If you have any questions in the meantime then please do not hesitate to contact our customer care team on 0800 028 2802.
To overcome the safety issues faced in your bathroom you may be concerned that the only solution is to undergo an expensive bathroom transformation. However this is not always the case. Our informative guide outlines a number of cheaper alternatives that you can consider to help prevent otherwise avoidable injuries from occurring.