Bath lifts vs Walk in Showers For Older People
Bath lifts vs Walk In Showers? Should you choose a bath lift, or would a walk in shower be more suitable for your needs? Read on to find out.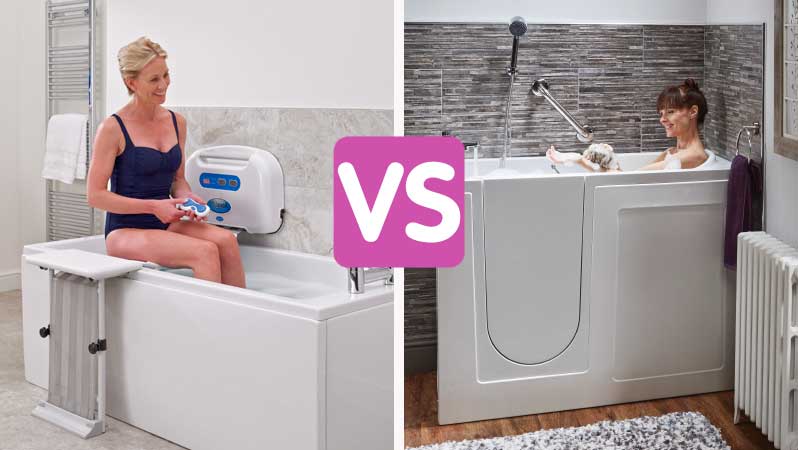 It's strange to think that the often-smallest room in your home can cause the most difficulties. If you have limited mobility getting in and out of your bath or shower can become increasingly difficult as you get older.
If you are concerned that your mobility is declining, or you are simply thinking ahead and anticipating your future needs, it's important to ensure you have an effective bathing solution in place for your comfort and security. When the time comes to look for some extra help there are a number of options to choose from including bath lifts vs walk-in showers.
We've put together this useful advantages and disadvantagaes guide to help you decide which option could be best for you.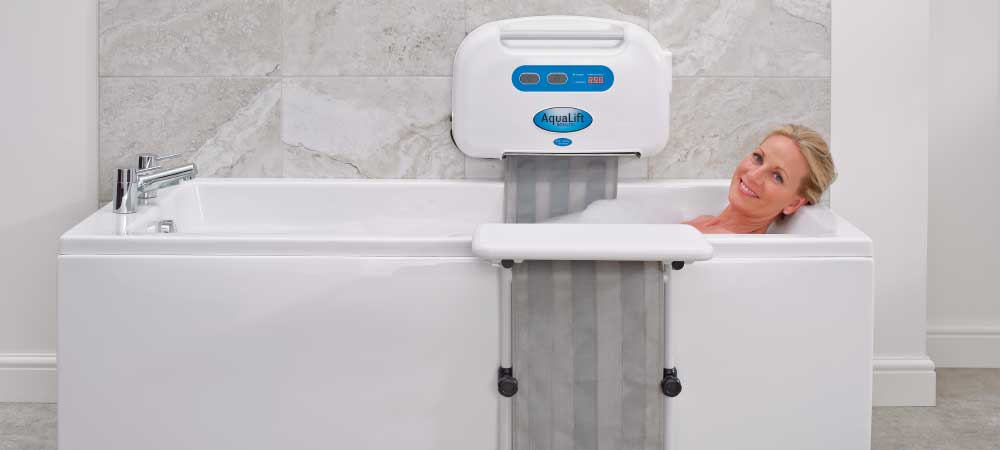 What Are Bath Lifts?
Bath lifts work by carefully and safely lowering the user into and out of the bath, via a small, handheld remote control.
The unit attaches securely to the wall by your bath, and is designed with an array of safety features.
What Are The Advantages of Bath lifts?
Baths can offer many health benefits over showers, such as aiding sleeping and reducing flu symptoms.
On top of this, many people prefer baths to showers due to the fact that you are able to sit down and relax rather than stand up for the duration. This is a preference amongst individuals who suffer from conditions that can cause them pain when standing for long periods of time.
The brilliant thing about the AquaLift Bath lift is that, unlike other bathing options, the belt lowers you right to the bottom of the bath. This means that you can enjoy a relaxing, full-depth bath. Plus, you'll be safe in the knowledge that you can get in and out of your bath without getting stuck.
Safety features of the AquaLift include a non-slip seat to keep you safe and secure and an in-built grab rail for extra support when entering and exiting. It also features an integrated seat to make it even easier to get in and out the bath, and giving you somewhere to sit whilst you wash your feet and hair.
There are many more benefits of having a bath lift! These include:
Fits onto your existing bath – this means that you don't need a whole new bathroom to enjoy it's advantages
It's cheaper than a whole new bathroom – walk in baths and showers can cost up to 6 times the price of an AquaLift!
Baths can offer temporary arthritic pain relief
With the 360-degree support that the water offers, baths can be a great way to temporarily relieve aches and pains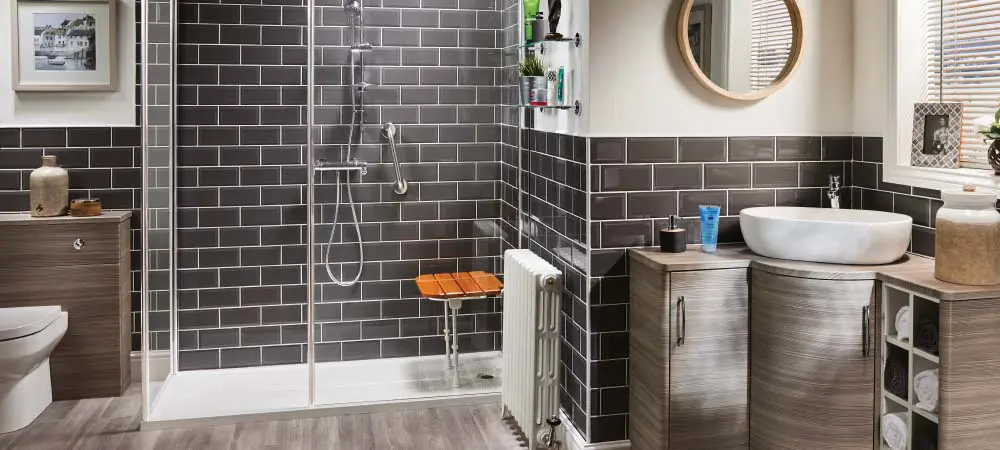 What are Walk in Showers?
An alternative to a bath lift is a walk-in shower. Walk-in showers are similar to standard showers, but they are fitted with lowered, easy access trays.
This means that you don't have to step over any high edges and compromise your safety in the process. This can also help to minimise pain that would usually be caused when trying to enter or exit the shower.
What Are The Advantages of a Walk in Shower?
Designed to make showering safer and easier, Walk in showers are a relaxing and accessible way of showering.
They are also very easy to clean and modern looking and can transform the whole look of a bathroom.
What are the Disadvantages of a Walk in Shower?
Walk-in showers of course require a whole new bathroom fitting, which can cost up to six times the amount of a bath lift.
It also takes much longer to install a walk-in shower, whereas an AquaLift can be fitted within just one hour.
Removing your only bath to install a walk-in shower can also reduce the value of your home because most prospective homebuyers, especially those with families, want at least one bath.
Bath lifts vs Walk In Showers- Which is Best?
Ultimately, deciding on Bath lifts vs Walk-in Showers, depends on your needs, preferences and how much you are willing to spend.
Here are some of the attributes to consider before deciding which you should buy:
| Feature | AquaLift | Walk in Shower |
| --- | --- | --- |
| Installed in 1 hour or less | ✓ | ✘ |
| No building work or plumbing work | ✓ | ✘ |
| Won't lose value on your home | ✓ | ✘ |
| Fits onto your existing bath | ✓ | ✘ |
| Can be retracted for others | ✓ | ✘ |
| Allows full depth bathing without waiting for your bath to empty before you get out | ✓ | ✘ |
| No need to set in your bath waiting for it to empty and get cold | ✓ | ✘ |
Why Our Customers Prefer Using a Bath Lift to a Walk in Shower:
"This is an excellent product. It has enabled me to have a relaxing soak in the bath without affecting the athritis in my knees. It is safe and easy to use.
From the initial telephone call, through to the visit by the sales rep and finally to the installation everything was done in a safe and caring and friendly manner.
The product is brilliant. It is neat and quite unobtrusive on the bath allowing anyone who doesn't need it to still access the bath. It doesn't inpeach on the space in the small bathroom.
Even though I have the convenience of a walk in shower it has been wonderful being able to finally have a bath after over 5 years of not being able to get in and out of one safely and without pain. It is all down to my new AquaLift Bath Lift."

[Mrs Hill]
How to Order The AquaLift Bath lift:
We offer a try before you buy service before you go ahead and purchase one of our bath lifts.
This means that you are able to test out the bath lift and ensure that it is suitable for your needs and requirements before you invest.
Here are some more facts about the AquaLift bath lift:
The belt retracts unobtrusively so that other members of the household can still use the bath conventionally
Holds the user weight of up to 20 stone
Fits on to almost any bath
Comes with a three-year warranty
Powered by a rechargeable battery that lasts for up to 20 lifts, meaning there are no wires
If you suffer from a long-term illness or a disability you could be VAT exempt
We hope that this has helped to assist you in your decision between bath lifts and walk-in showers!
If you'd like to find out more information about the AquaLift, click here to request your FREE brochure today! Or, simply give our team a call on 0800 028 2802 today, they will be more than happy to assist you and answer any questions that you may have!
To overcome the safety issues faced in your bathroom you may be concerned that the only solution is to undergo an expensive bathroom transformation. However this is not always the case. Our informative guide outlines a number of cheaper alternatives that you can consider to help prevent otherwise avoidable injuries from occurring.